Getting Better Value from our Public Investment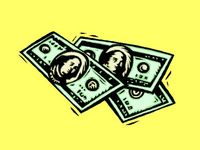 In the year 2000, the National Organization on Disability (NOD) conducted a national survey of people with disabilities in partnership with the Louis Harris Poll. This survey revealed that only 32% of people with disabilities were working in contrast to 81% of people, ages 18-64, who don't have disabilities. This 49% gap was the widest among all quality of life indices studied in the survey (NOD/Louis Harris Poll, 2000).

Go ahead and pick the national study that you want to believe. The statistics vary some but virtually all of them reach the same conclusion. We have a national problem that requires our attention. People with significant disabilities are unemployed at rates that are unacceptably high. And a majority are fully or partially dependent on federal, state, and local resources for their health care and basic living expenses.
Some public policy questions are in order here. For example, why is it OK for Americans with disabilities NOT to work, but people who are receiving welfare assistance (many of whom have diagnosed and undiagnosed disabilities) are REQUIRED to work? And why is it OK for people with disabilities NOT to work when American taxpayers seem unwilling to pay for life-long disability entitlements and programs at their present rate of growth?

What if America launched a national priority that supports the idea that all unemployed people with disabilities should go to work? What if our country were to take up this unemployment issue seriously? Is there a national will to narrow this incredible employment gap that exists among Americans who live with and without disabilities?

Here are some other relevant questions. Do we know enough to support an employment for all national strategy? Would employers choose to participate and help guide this inclusive employment strategy? How much money would it take to implement such a plan?

These last three questions get right down to the heart of the matter. I have been working for more than three decades in support of this idea that people with significant disabilities should work. And I rarely find people who disagree with this goal at least in principle. The rub lies in a belief that people with disabilities are not up to the challenge. I say it is just the opposite. Our society has not lived up to its challenge to extend opportunities to all Americans.

Most people are unwilling to accept this possibility that a goal of full employment and inclusion is attainable. Rather, we seem content to accept the notion that we are doing the best we can with the resources we have. A prevailing wisdom is that creating jobs in the workforce would be a fine goal but it would be far too costly to implement. As old the saying goes, the devil is in the details.

In response to the first question, we are learning a great deal about the job placement, training, and employment of people with disabilities. Many national studies have documented that people with significant disabilities can work if they choose to. However, many need assistance in identifying and developing their innate talents, organizing a job placement plan, finding an interested employer, and accessing the varied supports they need to obtain job success in our community's workforce. The real problem is accessing the customized assistance they need to level the playing field and negotiate job opportunities with employers.

In the last two decades, supported and customized employment providers have made a difference in bringing thousands of employers and employees with disabilities together worldwide. These programs offer the technical job support employers need to make workforce integration a reality. This includes access to workplace modifications, job redesign, transportation assistance, use of assistive technologies and devices, instruction concerning effective on-the-job training and supervision strategies, job coach assistance, ongoing follow-up services, and many other support needs.

Despite a growing body of evidence that people with significant disabilities can work in the labor force, there remains a strong commitment to center-based facilities and a public investment in their programs. This includes the delivery of services that do not have a job placement focus or workforce integration objective. The conversion of center-based services to supported employment remains hindered by a belief that job placement is only appropriate for those who are "capable" of working in a community job. Under this narrow school of thought, responsibility for job placement success or failure rests entirely on the skill sets of people with disabilities and their abilities to compete in the competitive job market. This philosophical foundation is no longer consistent with what we now know to be true.

In regards to the second question, the incredible success of supported employment programs throughout the world demonstrates that many employers are interested and willing to invest in the idea of employing people with significant disabilities. The recent emergence of 36 Business Leadership Networks (BLNs) in the United States is further evidence of this fact. The BLNs are business-driven initiatives that are designed to promote and increase employment opportunities for people with disabilities.

Simply said, the launch of supported employment initiatives has never been about
charity
. It has always been about employing the identified talents and work contributions of people with disabilities. However, we must approach employers with business goals that involve a negotiated value exchange. In other words, it's all about
real
work for
real
pay. When traditional methods of job placement are not effective, we need well-trained job developers who can help employers identify
scenarios of opportunity
based on the known abilities of people with disabilities. We already have and will continue to pioneer new capacities to customize job opportunities for individuals who do not typically qualify for employment through a standard competitive job application process.
In sum, we need to alter our approach so everyone who wants to work can participate in accordance with their abilities. However, there is a critical shortage of trained professionals who can offer customized employment services. We need to build new capacities to retrain professionals who support youth and adults with significant disabilities within secondary education, vocational rehabilitation, One-Stop Workforce Centers, youth service programs, adult training & habilitation centers, community rehabilitation providers, mental health adult day treatment programs, and other disability service providers. We need more job developers who are trained in the principles of customizing jobs and employment services. In my view, we need more people doing the real work and fewer support people who are talking about it.

The final question deals with the matter of money. There is a prevailing attitude that expansion of job placement outcomes for people with significant disabilities can only happen if we get more money. Let's be certain about one thing here. We need adequate resources to do this work effectively because doing this job the right way is labor intensive. How much money do we need? How much more shall we ask for? And where will it come from?

What most people fail to acknowledge is that we already have a significant public investment in disability-related services. Literally billions of dollars are being spent on special education, public health care assistance, vocational rehabilitation, adult community services, mental health, public housing, independent living services, customized transportation, social security disability benefits, welfare assistance, institutional and residential care, assistive technology, and other disability advocacy expenses. In particular, costs associated with special education and Social Security disability benefits are rising at rates that are alarming to the public.

Our goal to secure more money through federal and state legislation is being hamstrung by the exponential growth and weight of current public investments and entitlements. And it is politically sensitive to address one area of need by cannibalizing or reducing another. Indeed, we have woven a complex web of public and private resources to manage manifold community service needs and objectives. And what do we have to show for this public investment? Are we using these varied public resources wisely? National studies, such as the NOD/Louis Harris Poll, tell me that we have a long way to go before acceptable levels of social and economic justice are realized.

If we accept the idea that a fundamental change is necessary, than what options are open to us? I can think of several basic scenarios:

1. We can accept the status quo and continue to invest in current models of education and community adult services that we know produce low levels of job placement success.

2. We can go to fiscally distressed federal and state legislatures as well as local authorities to request more public money so we can advance our job placement and supported employment agenda.

3. We can explore and implement better ways to use existing public resources to improve employment opportunities and increase job placement outcomes.

I once heard a story about the value of steel that I like to share with people concerning this topic. The story goes like this.
A plain bar of steel is valued at $5.00. When the $5.00 bar of steel is made into a pair of horseshoes, its value is converted to approximately $50.00 at retail. When the bar is refined into sewing needles, its value changes to about $5,000. And finally, if the steel is fashioned into balance springs for handmade watches, such as a Rolex, it is now worth $500,000.
Amazing!
I think the lesson to be learned here is that raw materials can be used to accomplish many different purposes. It all depends upon our objectives and how we choose to use them. Although advances have been realized in the employment of people with disabilities, we clearly have not maximized the use of existing resources to obtain fuller employment and community integration. Rather, we seem content to invest in current practices that yield modest outcomes and hope for the best.

Any national strategy to improve the job placement of people with significant disabilities will require a redirection of policies to enhance the flexibility and uses of existing resources to achieve new goals. In my view, this must include a conversion and leveraging of existing resources to create flexibility so essential to customizing services and achieving better outcomes. We also need a national marketing strategy to court and educate employers so they are equal partners in our mutual goals for fuller employment inclusion. Of course, this strategy demands a public-private partnership that makes business sense to achieve our mutual aims.
Finally, any national policy that promotes full employment of people with significant disabilities will require advanced staff development training and a retooling of job functions for secondary educators and adult service providers so they are better equipped to meet the challenges that lie ahead.

The launch of a national strategy for full employment of people with disabilities is formidable but one that is worthy of our time and effort. In truth, Americans with significant disabilities deserve far better than the horseshoes they have been receiving from our considerable public investment.