The Volley is in Our Court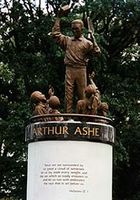 This past weekend, I spent time in Richmond, Virginia, getting ready to do a live Webcast on the campus of Virginia Commonwealth University (VCU). The Webcast is being sponsored by the national T-TAP program, a coordinated partnership involving the Department of Labor's Office on Disability Employment Policy (ODEP), University of Massachusetts (UMASS), and VCU. My colleague, Melinda Shamp and I were invited to share our views and experiences on the topic of Mission-Driven Organizational Services and increasing employment outcomes for youth and adults with significant disabilities.

After a long week of conferencing in North Carolina, I was in desperate need of some exercise. So I decided to take advantage of my free time and take in a six-mile run. Since Richmond is an historic city of the Old South and former capital of the Confederacy during the Civil War, it was recommended that I consider taking a route that cut through an avenue of monuments commemorating icons of the Civil War and Confederate South. Why not?

As I navigated my way through this district, I passed by a series of monuments saluting notable Civil War heroes. I ran by the statues of Jefferson Davis, President of the Confederation, Matthew Maury, Captain of the Confederate Navy, and Robert E. Lee, Thomas "Stonewall" Jackson, and J.E.B. Stuart, all celebrated Generals of the Confederate Army. As I reached my third mile, I approached the statue of another famous and celebrated resident from the City of Richmond Arthur Ashe.

Whoaa, wait a minute! Is that professional tennis star Arthur Ashe?! What on earth is a statue of Arthur Ashe doing placed along a boulevard celebrating white Civil War heroes from the South? The placement of this monument commemorating the life of Ashe seemed utterly preposterous. It looked completely out of place.
Yet in an eery kind of way, it was perfectly placed. The exact placement and inclusion of the statue was a shocking statement of our American values and ideals. It was fascinating to see this statue honoring the achievements of a black athlete from Richmond sitting in the shadows of Civil War heroes from the South.

Frankly, I just had to stop for a minute and admire what the City of Richmond had erected. The City that earlier banned Mr. Ashe from its "whites only" tennis courts had now dedicated a monument to his achievements in 1996. Amazing! At the base of this 12 foot bronze statue read the following biblical inscription:
Since we are surrounded by so great a cloud of witnesses,
let us lay aside every weight,
and the sin which so easily ensnares us,
and let us run with endurance the race that is set before us.
Hebrews 12:1

Wow! Although I am not an astute professional tennis fan, I did know a little about the life of Arthur Ashe. He was born in 1943 in Richmond when racial segregation was the law during his childhood and early youth. Ashe rose above blatant discrimination to become a professional in a sport dominated by white players. Ashe became the first African-American tennis player to win a major singles title and his professional career spanned 11 years. Through a little research, I learned that he was the winner of 33 singles titles including Wimbledon, The French Open, and the U.S. Open. The professional career of Ashe was shortened suddenly and permanently by a heart attack in 1979. Arthur Ashe was enshrined in the International Tennis Hall of Fame in 1985.

An intelligent athlete, Ashe was a long-time protester of apartheid in South Africa and lent his name and money to many social justice causes. He was a staunch advocate of furthering the education of needy children and became a high profile spokesperson for the medical treatment and cure of AIDS. Ashe died prematurely in 1993 from complications due to AIDS, a disease he had acquired during a blood transfusion earlier in 1988.

As I left the Ashe monument for my return trip back to the hotel, I could not help but think about the ironies of what I had seen and experienced on this run. I was here in Richmond to do a Webcast promoting the importance of integrated employment for youth and adults with disabilities in the workforce. This "out of place" monument offered a compelling visual imagery and stark reminder of the challenges that lie ahead of us. It is my understanding there was much opposition to the very idea and placement of this statue honoring Ashe. Despite all odds, Ashe once again rose above his critics to secure a rightful place of honor in the very heart of his home community.

In a very similar way, the presence and participation of people with significant disabilities in the workforce might at first appear to be improbable, odd, or even "out of place." However, the tools and strategies of customized employment are now paving the way to increased integration and opening new possibilities for people who are willing to approach the idea in completely new ways.

In his closing remarks at the National Organizational Change Forum in North Carolina, Dr. David Mank from the University of Indiana shared with the audience a bumper sticker he saw recently. It said: "The main thing is keeping the main thing the main thing!"
Without a question, the core philosophical underpinnings of integration and inclusion must always remain a cornerstone in the important work we do. This means magnifying our similarities and marketing our human qualities in ways that connect all of us as a community. The objective of customized employment is identifying and translating the contributions a person with a significant disability can make within the context of his or her community. For this reason, integrated employment is an important and noble goal worth pursuing for everyone of working age who wants to work.