Opening Doors to Self-Employment & Supported Entrepreneurship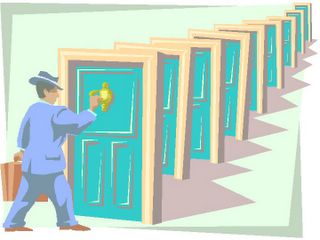 About two weeks ago, my organization hosted a staff development workshop on the topic of self-employment and microenterprises for people with significant disabilities. A national training expert on this subject, Mr. Cary Griffin, came to Minnesota to guide our employment specialists in thinking through a broad range of issues critical to supporting people with disabilities in writing sound business plans.

Of course, the very idea that people with significant disabilities can become entrepreneurs, engage in commerce, and contribute their skills through business ownership was only a pipe dream a short time ago. Remember, we are talking here about a group of Americans who have a staggering unemployment rate of 65-70% nationally.
My own agency, Rise, Incorporated, had experimented with self-employment strategies in the past decade, but only in limited way, and only with people who have higher levels of education or training. Cary Griffin and his colleagues have broadened this vision to include people with a wider range of ability levels. In the past few years, Griffin-Hammis Associates have assisted more than 200 people with disabilities in putting their unique talents to work through a variety of self-employment enterprises.

About a year ago, Cary visited our agency to conduct an introductory session on self-employment. However, this time he was returning to get down to the nitty gritty. Our staff were now being asked to come to this training workshop to learn how to write business plans. An enthusiastic group of 24 professionals, principally from Rise, came prepared with ideas about specific people who had expressed an interest in going into business for themselves. The training group learned very quickly that Cary had no intention of making this day one of passive learning and talking heads.
After a short presentation, Cary divided the group into four smaller work teams and they immediately got down to business. The study teams represented participants with a wide range of disabilities served by our organization. Some staff came from our school-to-work transition programs for youth, and others were representatives from our mental health supported employment programs. We also had job counselors from our welfare-to-work services as well as AmeriCorps members who are supporting our customized employment programs. The team from St. Cloud, Minnesota even brought an aspiring entrepreneur to participate in our staff development workshop. Very cool!
Each team was provided its own workspace so it could conduct its business research and enhance team member discussions. Throughout the day, all four teams engaged in training exercises and they were asked to draft a business plan based on their discussions, research, and specific details brought into the training session. All teams worked extremely hard over the course of the day studying, weighing, and negotiating their essential start-up needs. The topics the teams grappled with included capitalization of needed equipment, business marketing strategies, naming each business, forecasting its cash flow needs, and identifying a primary and secondary base of customers among other topics.
It was a long, hard day at work indeed. As each team progressed in writing its business plan, Cary gently challenged them to think through all of the checks and balances thoroughly. He also offered encouragement when the teams found themselves bogged down in details, mired in group process, or meandering off the track.

Due to previously scheduled commitments, I was unable to personally attend the basic training or team planning activities during the earlier part of the day. However, I was invited to sit in at the end of the workshop to observe as each group took its turn presenting their business planning outline to the entire group.
In all honesty, I was completely blown away by the quality of work completed by each group in such a short time period. The creativity shown by each team was truly remarkable and there was little question that each business plan embraced the interests and talents of the people who were targeted for self-employment.
The first group shared its business plan to launch an airport taxi service on behalf of a young man with a disability who is receiving welfare assistance and has limited English proficiency (LEP). The second group shared its plan to help a women start a music therapy business that would offer one-on-one support for students with special learning needs. The third group discussed their plans for opening an employee-owned microenterprise that will sell gourmet coffees, fresh deli sandwiches, and snacks in a local government building.
And I sat in complete awe as the participant with a serious mental illness spoke on his own behalf (and the fourth group) about HIS dream to launch an architectural business firm that will offer customized housing designs to fit the contemporary lifestyles and preferences of home buyers living in Central Minnesota.
Wow!! I was literally bouncing off the walls with excitement listening to and digesting what each team had prepared for its presentation. Here was a group of my colleagues thinking completely "outside the box" and designing entrepreneurial ventures that were not only original, but definitely viable from everything I had heard. Of course, each group acknowledged there was still much work to do in support of individual participants before any finalizing and launching of a business plan was possible.

Nonetheless, all groups left this training workshop energized with ideas and good intentions to follow through with the business drafts they had carefully prepared during the day. And as a group, they decided to get back together at a later date to evaluate the impact of this training and assess how many business plans had been launched successfully.

I would like to share a public "thank you" to Cary Griffin for bringing his wisdom and expertise to our organization. To be sure, self-employment and supported entrepreneurship is not for everybody. With that said, there is little question that Cary is bringing fresh and original ideas to the customization of employment for people with significant disabilities.

The exciting possibilities and benefits associated with business ownership are in a much clearer focus today. And self-employment is definitely on the radar screen of our creative staff.